---
How did Rusty's Pizza Parlor get its name?
Just a stone's throw away from the Santa Barbara coast, two young entrepreneurs, Roger and Carol Duncan scraped enough money together to open "Rusty's Roast Beef" in Isla Vista - the year was 1969. Before their restaurant journey began, Roger was a produce manager in a local grocery store & Carol was busy teaching at Foothill Elementary & caring for their two young girls.
Exploring their new home town of Santa Barbara, they found that there was no pizza place to take their kids - A dream was born! They set their sights on creating a restaurant that served the highest quality pizza with great service and tons of family fun for the community.
This lofty goal came with a lot of trial and error in the kitchen - Hobart mixer manual in hand, Roger labored over creating the perfect crust (yes!)... while Carol experimented endlessly with spices and herbs for the now famous mouthwatering pizza sauce. Together they explored the best combinations of toppings to create the PERFECT PIZZA!
Finally...they were ready to introduce their pizza to Santa Barbara- but what would they call it? The sign outside boldly read; "Rusty's Roast Beef" and changing the entire sign was financially out of the question. There was only one creative solution - pull out the hand saw, cut the sign in half; leave the "Rusty's" and add "Pizza Parlor"....The rest, as they say, is pizza history.
A Sense of Community... Since its beginning, Rusty's has been involved in the community with a strong emphasis on children through school programs and youth organizations.
Moving into the 70's
The owners of Rusty's wanted to share their pizza with the rest of Santa Barbara ~ along came 2 more locations in the family-friendly neighborhoods of San Roque (Upper State Street) and the East side (North Milpas).
Always looking for unique family activities and ways to contribute to the Santa Barbara community, famous cartoonist Frank Webb lead free drawing classes at the State Street location every week. Mr. Webb would draw a letter of the alphabet and each child would follow along to learn how to magically turn their letters into animals. Can you spot "Carol's Frog Pond" and a "Slam Dunk" basketball player in "The Frank Webb Room?"
Both the State Street and Milpas locations entertained customers with black and white silent films accompanied by a piano player. Felix the Cat, Charlie Chaplin & The Three Stooges were some of the line-up of films shown at the pizza parlors. Check back again soon for more memories of Rusty's. #therustysstory.
Occupying the "castle" in the 80's
Many locals remember eating the smorgasbord served at 'The Pub' or Poor Richards on the corner of Bath and Carrillo St. during the 70's. Richard Headley and his wife built the authentic English pub complete with wooden pegs and forged nails - it quickly became a Santa Barbara favorite spot to drink ale and dine. Intrigued by the charm and character of the building, Rusty's owners dreamed that perhaps one day it would be a Rusty's Pizza. That "one day" fairy tale came true when the pub was up for lease in the 1980's - Soon the young Duncan girls were picnicking upstairs as royalty of the "castle" while the Duncan's cleaned and prepped the restaurant downstairs. Determined to serve all the neighborhoods in the Santa Barbara area, Rusty's opened in Goleta where car hops used to serve cold frothy root beer floats at the A & W Root Beer drive-in on Fairview and Calle Real. Last but not least, Rusty's opened a location in the quaint town of Carpinteria known for its "world's safest beach" with gentle waves, beautiful sand and year round life guards.
Hey Vern! It's Ernest!
In 1985 Rusty's hired character actor, Jim Varney to create a series of T.V. commercials featuring his goofy character Ernest who always finds himself in precarious situations with his unseen friend Vern. Check out our YouTube channel commercials; https://www.youtube.com/watch?v=tqonkyTg1dw. Varney was not just known for commercials but had a series of movies as well as a day time kids show. His famous line as Ernest was, "KnoWhutImean?"
Speaking of kids - Think back 30 years or so - did you have a fun theme party at one of our Rusty's during the 80's? Maybe a "Happy Days", "Back to the Future" or "Teenage Mutant Ninja Turtles"? Or did your school take a tour in one of our kitchen's & make your own pizza? Post your story Instagram, Twiiter (@rustys pizza) or Facebook & tag us #therustysstory!
The Bank
Rusty's first themed restaurant came quite by accident in the 1990's when the owners wanted to open a location on Storke Road. After finding out that it would be impossible to remove the massive vault from what used to be a bank, they dove head first in to researching and designing a location reminiscent of the turn of the century architecture. As you dine, enjoy the many photos of early banking days in Santa Barbara and the beautiful carved wood, brass and marble…you can even peek through the teller windows. The "Vault Room" now serves as a beautiful party room and can still be reserved for private meetings and gatherings.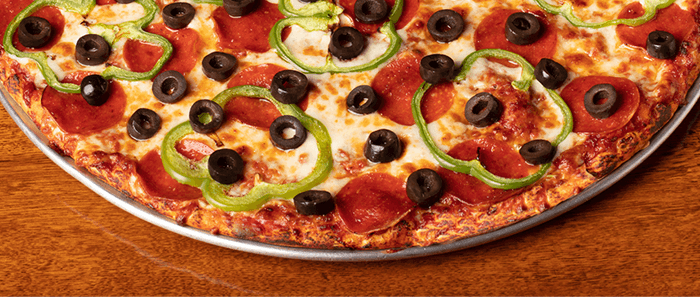 Never Miss a Deal
Join Rusty's VIP Club & we'll send you special discounts right to your inbox. Sign up NOW and receive 20% Off your First Club Food Order!
By completing this form you're opting in to receive our awesome email offers and may unsubscribe at any time.